It's more evident than ever that videos have become an integral part of most successful marketing campaigns. If you haven't yet started using video on social media as part of your digital marketing efforts, you're late to the party. Your competitors are probably already ahead of you.
Here we'll explain the importance of video marketing and how it can help your business grow!
What is video marketing?
Video marketing is simply the action of marketing (your brand, your product, your branded events, or something else) through video. If you're creating a small video to promote your business, even if it's subtle, that's video marketing.
There are multiple ways in which brands can leverage video marketing. Video can be integrated into social media platforms to share more engaging content, it can be added to email, on your website and so much more. The quality and length of a video marketing piece will depend on the platform and purpose of the video. Because video marketing aims to accomplish a lot of different things, each video should be considered on an individual basis.
Video marketing is also composed of video advertising, probably terms that get mixed up sometimes. Normally it describes the process of creating videos that you pay to promote on specific platforms. However, video ads are more centered on selling, while video marketing includes all the ways your brand communicates to your audience.
Although video marketing encompasses video advertising, both are important for most brands. It's important to distinguish video advertising from other forms of video marketing when creating a marketing plan.
Why is video marketing important for your business?
As mentioned before, videos are very popular. The key reason why they're so popular is that they easily engage prospects and clients across multiple channels and platforms. That is why any kind of business should be using video to attract, convert and retain customers. If you don't start now with your video marketing strategy, your competitors might be taking advantage of the situation, since most of them are probably already using videos to their benefit.
Thanks to video marketing you can:
Stay visible longer on social feeds

Get more exposure and engagement

Increase the understanding of your product

Stand out more since your message will be clear and memorable

Increase your sales

Rank higher in search engine results
Videos are great for brand awareness, improving your business's online presence, humanizing our brand, building trust, and boosting sales thanks to everything mentioned before. Therefore, no brand couldn't use them to their advantage. However, you need to go the right way with your videos to benefit from your video marketing campaigns.
Which is the right way to make videos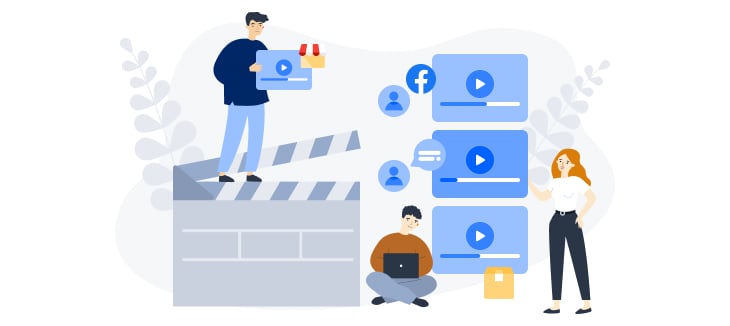 Types of videos
You may not know what kind of videos to record and publish to increase your audience's engagement. Here are some of the most common ones:
About us: give your audience an insight into your company's culture, values, goals, backstory, and motivation. This way you can show them what your brand is about and what sets you apart from your competitors.
Testimonial/customer testimonials: this is one of the most powerful resources you can have. If a customer is happy with your brand and you have video proof of that, it is the best mouth to mouth possible since it will reach a bigger audience.
Product demonstration videos: these videos' goal is mainly to inform. You offer value and want to enhance your customer's experience with your product offering tips and tricks and informing them in general about it.
Promotional videos: reach out to your customers about an ongoing sale or special offer or showcase a brand-new product. Remember to add all the necessary information about the purchase.
How-to videos: these are similar to the demonstration videos, however, these how-to-videos do not mention any brand or product. The purpose of how-to videos is purely to build brand awareness and market authority. Help people learn about niche-related topics.
Event videos: these include recaps or summaries from your events. Even if they're online or a live stream on social media, since they might not have been able to attend, it will make your audience feel included.
Useful tips for the content
Since it could be a bit scary how to make the content for your videos, there are some tips you could follow that could give you an idea on what to use or which methods to use:
The shorter your videos are, the more likely are they to earn views (just don't overdo it).
Hook viewers in the first 5 seconds. You can achieve this with leverage motion. Our eyes need to see movement to be attracted. That plus eye-catching visuals that can be appealing to us.
Include a call to action. If your goal is for your viewers to interact with your brand in any way, ask them to. Having an actionable video CTA is almost as imperative as having a hook.
Add subtitles. Subtitles can be in different languages or simply for deaf people which could include bigger audiences.
Tell a story

. Plan out and order your content so that it tells a compelling story. That way, people will want to find out more and will be more likely to return to watch your videos again. In other words,

make the most of video storytelling!

How to edit your video
There are a lot of video editing programs on the market that can give very good results (Adobe Premiere Pro, CyberLink PowerDirector 360, Pinnacle Studio, Final Cut Pro...). But although most of them offer a trial period, most of them require a purchase.
Moreover, if you're a business owner you might not have the time to learn how to use a new editing video software. Maybe then this means you would have to spend time and money that you don't have. Therefore, if you have little to no experience, then you can try to hire freelancers on fiverr who can put their professional skills on the spot for your business. Moreover, if you want to keep your brand uniform also in your videos, it is a good idea to contact the same freelancers that also took part in your design and logo if you didn't do it yourself.
Where can you host your videos?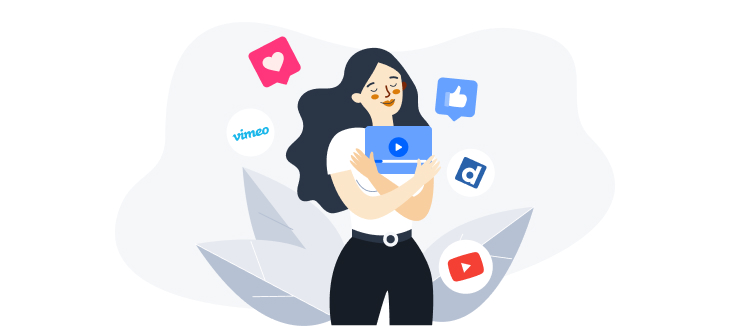 With professional video platforms, businesses can host and stream live, on-demand video content all in one place. A professional video hosting platform is a software solution designed for video hosting and content management.
Free hosting video platforms include YouTube and Dailymotion, for example. However, those are probably more suited for B2C businesses (business to customer). If you are a B2B business (business to business) you might want to check other paid option hosting video platforms that can have a wide range of possibilities like Vimeo, Wistia, or Vidyard. You have to also check which ones include live-streaming functionalities if it's what your business needs.
Ultimately, the best video hosting site for your business will depend on your unique needs. If you're looking to earn money from your videos, opt for a video hosting service that supports ads or lets you set up a subscription plan. If promoting your business is your main goal, you might look for a service with robust marketing and analytics tools. The most important thing is that you're getting your videos in front of the people you want to see them.
In which social media platforms can you promote your videos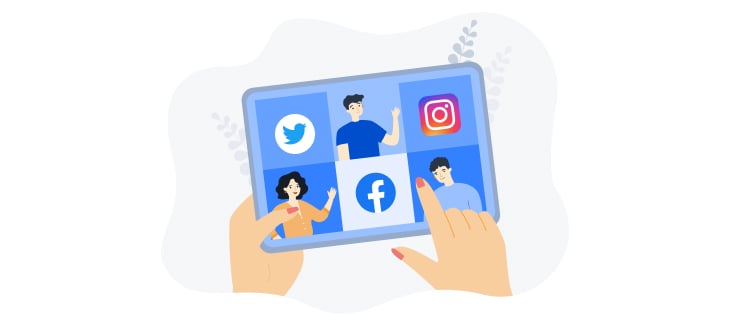 No matter what you want to achieve with your video marketing if it's just showing a product and talking about how to use it, or simply boosting sales with video ads. Social media is probably where you want to reach the biggest audience possible. Compelling visual content was also proven to drive sales and boost ROI.
Here are some of the most popular networks where you can share and promote your videos:
YouTube
It could be that YouTube is not a social media network per se, but as a video-sharing platform with more than one billion hours watched every day, you cannot discard it for your videos. When it comes to user demographics, mostly males between the ages of 18 and 34 watch YouTube. However, despite that fact, this video platform is suitable for most businesses out there.
Youtube covers a wide range of niches and has a substantial existing audience. It also offers flexibility regarding video length, which other social media platforms don't do. You can rank your content organically and even monetize your videos if you want. Moreover, it also supports live streaming and it's a video hosting platform, which means you can host your videos there for free and share them on other platforms or even your website.
If you decide to focus on this platform as a part of your marketing strategy, you can:
Build your brand awareness.
Find PR opportunities.
Showcase customer testimonials.
Feature your products.
Build market authority.
Instagram
Considering that the platform's audience is predominantly females under 35 years of age and that it is best suited for personal promotion and influencer marketing, Instagram is an optimal advertising medium for brands that cater to that particular demographic. So if your target persona fits this description, you'll probably want to focus most on Instagram promotion.
Facebook
Facebook is the largest social media platform in the world with the most diverse audience. According to marketers, it is also the platform with the highest ROI. Since it has an auto-playback function (like YouTube), videos should be catchy already during the few first seconds since viewers can see the preview before scrolling and leaving for another post. Also it's better if the videos are not longer than 15-30 seconds.
Snapchat
Snapchat's demographics primarily consist of millennials. That is the reason why this social network is a gold mine for all brands targeting young people. The majority of its users are between 13 and 24. That is what makes this platform ideal for brands targeting these young age groups!
However, this platform comes with some challenges. Millennials have short attention spans and will only consume highly engaging and humoristic content. Even though it's not impossible to make this kind of content, it is also quite tricky. But do keep in mind that you'll have to adjust your social media video marketing strategy accordingly.
TikTok
TikTok is "new" compared to the other social media platforms but has been raising its popularity since the beginning mostly with the younger audience. This platform's audience is made in its majority from people under 30. Besides, this platform is all about video! Normally they are short videos (up to 60 seconds) with entertaining content. businesses that target younger audiences can put their video content out there. However, the challenges they might face will be similar to those on Snapchat. Due to the nature of TikTok's content and the demographics, not all content will be effective and it will have to be alluring enough to grab people's attention.
Twitter
Twitter is not commonly associated with video, but after it introduced video posts in 2015, the marketing potential of the platform grew rapidly. So who can make the most of this platform? Well, the answer is brands that cater to the American audience, since this platform is mainly popular in the U.S. So if you're a business looking to get into the U.S. market, trying your hand at Twitter would be a solid choice.
Ready to start your video marketing campaign?
Hopefully, the insights in this article helped you notice how important video is nowadays, and you won't hesitate to give it a try! Use the tips mentioned above and start creating and sharing your catching videos as soon as possible. It will make a difference to your business!