Why Managing Bad Reviews Matters

82% of consumers read online reviews for local businesses and 97% of those consumers read the responses to those reviews. This is a key reason why responding to negative reviews can dramatically impact the number of new customers who decide to try your business for the first time. Fortunately, the number of negative reviews can be reduced with an appropriate response. 30% of reviewers in a study admitted to updating their reviews after receiving an appropriate response from the business owner to their review.
But that's just the start of it, bad reviews without a response can do more than damage your business's review profile. They can also reduce its online visibility, hurting your rankings and click-through rate on key search engines like Google.
Bricks-and-mortar locals need to be especially wary of the impact of negative reviews on search engine visibility because this impact is particularly noticeable on Google Maps pages where SMBs tend to attract many local and passing customers from. For example, with the highly competitive search term 'pubs in Dublin' you only find bars with over a thousand reviews and at least a 4 ½ star overall rating on the first page of results. Bars on this page will attract the majority of customers and clicks.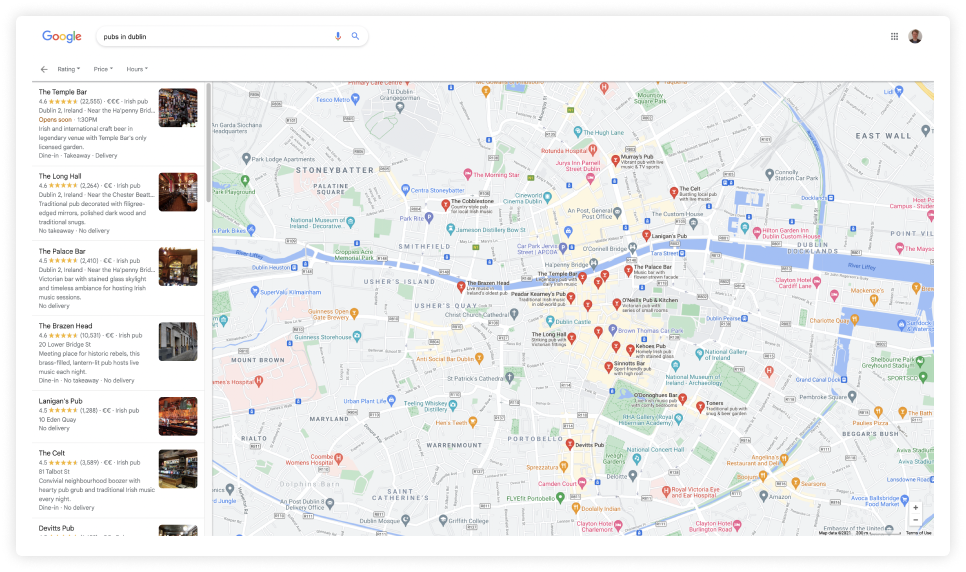 If you are a small business owner looking to attract more customers online, and your current online review profile could be better, don't worry: you can use these best practices for negative review management to improve your overall review profile, boost customer satisfaction, attract more customers and improve your online visibility.
SMB TIP: Want to know how your review profile measures up? Free review monitoring apps like rankingCoach FREE scan the internet for reviews of your businesses and show them to you in email notifications and the apps innovate real-time feed.
Preventing Negative Reviews with Customer Engagement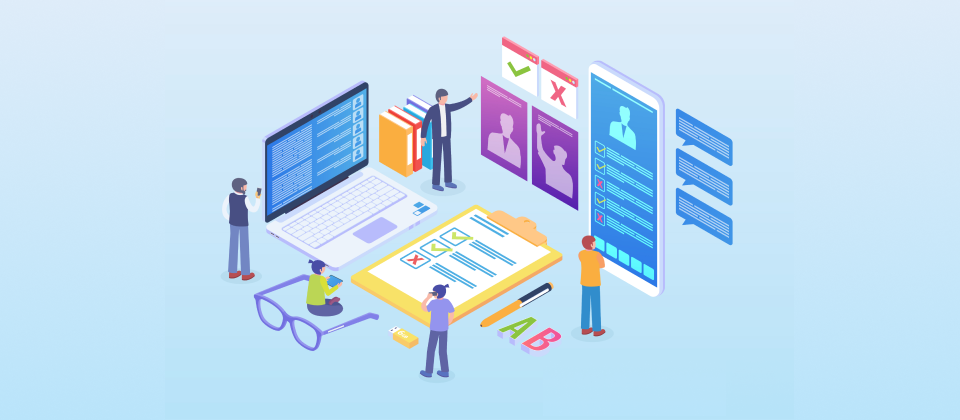 All good review management strategies don't start when the damage has already been done; Negative reviews are often posted by customers who need to express their negative experience but have no other outlet for it. Many of these customers' experiences can be improved.
This is a key reason why many businesses send surveys to their customers after they have used their services. This ensures that negative experiences can be responded to appropriately and internally before they ever turn into negative public reviews.
Many negative reviews come from customers whose businesses never made the effort to ask for feedback. You can illuminate many of these kinds of negative reviews by building customer feedback initiatives into your key digital marketing channels, for example by targeting customers post-purchase with on-site and email questionnaires.
Monitor for Bad Reviews
All of the strategies for responding to negative reviews that follow will be more effective if you first set up an effective system for monitoring your reviews on the most important review platforms for your industry. Key platforms include Google My Business, YELP and Facebook. The most time and cost-effective way of doing this is by using brand monitoring applications to ensure you know about negative reviews as soon as possible. Applications like rankingCoach scan key review platforms for reviews of your business and show them to you through a real-time in-app feed and email notifications. This keeps you informed of negative reviews so you can manage them as quickly and professionally as possible.
Tips for Responding to Negative Reviews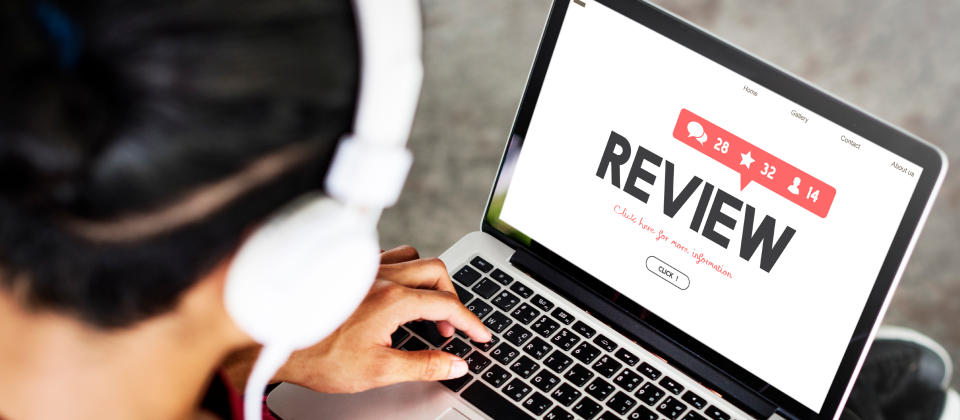 Many customers who take the time to write a negative review are doing so because they are frustrated and feel that their voice hasn't been heard. They expect a response to their reviews. By responding to them within a few hours, you will ensure you have the best chance of providing these customers with the necessary customer service required to change their negative perceptions.
Quick responses will also reduce the impact of recent negative reviews on other potential customers who are researching your business. These are the most impactful and seen reviews on your profile. Negative reviews on the first page of search results drive away 44% of potential customers.
Which Channels Matter When Responding to Negative Reviews?
Another crucial part of responding effectively to negative reviews comes down to your channel choices. This is an area that many businesses tend to get wrong. As a business owner, you may feel that resolving customers' issues publicly is a bad idea because you want to minimize the amount of attention a review receives in the public space.
But immediately responding to a negative review with a private message is often perceived by customers as an encroachment on their privacy. Unless a situation is incredibly urgent, your first response to a negative review should always be on the public review platform it was posted on. As discussed above, this is also important for managing other customers' perceptions of negative reviews.
Your First Response to Negative Customer Reviews

An effective first public response to a legitimate negative review normally has three key elements
1) Show appreciation for The Negative Review
When responding to criticism of your business, your first instinct is likely to be to defend your business. It is vitally important that you never blame or accuse the customer in these interactions. Your priority in the opening of the exchange is to thank customers for sharing their feedback. This starts the interaction off on a positive footing and displays professionalism and a clear desire to help.
After this opening what you can say to the customers is their experience does not reach your business's usual high standards. This both acknowledges to the customer that their problem is real and informs onlookers that the problems in this reviews is not a usual problem.
2) Accept responsibility and Show Compassion
An apology to the customer for any inconvenience caused by the customer's problem that refers to specific details of their problem. The details are crucial because they demonstrate to the customer that you are paying attention to their needs and that you are not bot. Nothing comes across as more insincere than the robot saying sorry, so make sure this part feels personal and make sure you use the customer's preferred name rather than the generic 'dear customer'.
3) Offer A Way of Connecting and Moving Forward
The suggestion of a specific action relating to their problem to solve it. This is usually the point where you offer your contact details to customers so you can respond to their problems personally. This gives the customer the power to decline, which will help avoid any sense that you are invading their privacy. It will also give customers whose problem hasn't been immediately solved the feeling that their complaint has been escalated.
Direct and Private Response to Customer Reviews
Getting the customer in a one-on-one exchange is a good sign that you will be able to resolve their issues, but this isn't the time to ask them to take down the negative review or to bribe them by saying you will help them if they take it down. Customers don't like to be pressured or blackmailed. Both of these above requests are highly likely to backfire. Your priority in this interaction is to make the customer feel listened to and demonstrates that you are making your best efforts to solve their problem.
Getting Customers To Take Negative Reviews Down
Even after you have taken the time to respond to customer complaints and solved their problems. This still isn't the time to command the customer to take down the negative review. Even after offering all this support. your request will have a much better chance of success if it doesn't pressure the customer. The best way to do this is to first ensure that the customer is fully satisfied with the solution you have offered, then if they are happy, you can say that you would really appreciate it if they would update their review to include the additional experiences they have had with your business, since posting their review.
The Problem of Fake Negative Reviews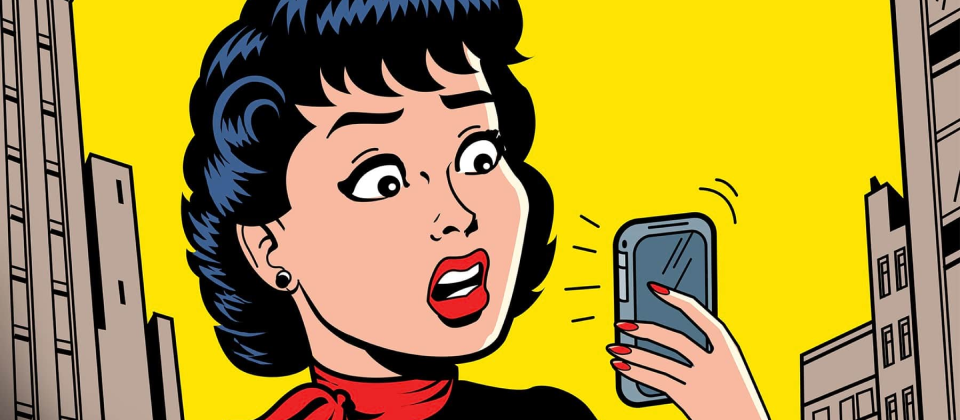 An increasing number of unscrupulous businesses are attacking local businesses with fake negative reviews. Overnight a small business owner can find that their online review profile is overrun with unjustified and unconvincing negative reviews.
These fake negative reviews are often easy to identify, containing short repetitive sentences, bad grammar, and spelling mistakes; An usually high number of them are posted by anonymous users or reviewers with profiles that don't resemble the review habits of your average person: They could all be from reviewers who have only posted one review or all of them 'coincidentally' have reviewed the same businesses.
SMB TIP: You can also counter the negative impact of bad reviews by encouraging positive reviews. Brand and social monitoring tools can help you find satisfied customers who are more likely to want to post positive reviews
Getting Fake Negative Reviews Taken Down
If you think the reviews posted on your website are fake or unreasonable, you should first check that review platform's review policy to see if anything in the review goes against the policy. Fake reviews are against all review policies but being able to identify something specific and mentioning it in your complaint to the review platform will give you a better chance of having the review taken down.
Here is a video showing you how to report unfair Google my Business Review to Google.
Should You Respond to Fake Reviews?
Even if you have reported a review as fake it may take a while before the review platform agrees to take it down this time, other customers will still be able to see it. This is why you should respond to these reviews as if they are real customers.


You Can't Change All Negative Reviews
The best performing review score on Google averages at 4.2-4.5 - above this score sales tend to taper off, as there is an illusion that 5 stars is "too good to be true". So whilst a bad review may seem devastating, bear in mind that it is also adding a silver lining of authenticity to your listing. Take a moment to stay calm, consider the perspective of the customer and remember to always be professional, courteous, and constructive.