Why Keywords are Key
We all know that you cannot have success in SEO without finding the right keywords first, but what exactly does this mean? And how do we do it? First, let's start by understanding what keywords are: They are the words and phrases at least one person types into search engines to find what they are looking for. The more people use a phrase, the higher value that a top ranking on search engines will have.
Any business that can make their website appear as the top result for the best keywords linked to their products and services will gain a steady flow of new customers from the search results. This article shows you some great tips and strategies for finding the best keywords for your site
When to Do SEO Research for Your Site?
Finding the right keywords for your site should be one of your first priorities when optimizing your website for SEO. After ensuring your website is built to be SEO-friendly which these days often means choosing an SEO-friendly CMS that is easy for search engines to crawl and has an easy-to-navigate backend for you to insert your keywords in crucial keyword locations.
Finding High Volume Keywords
The simplest way to think about keywords research is to focus on search volume. This is the number of people searching for a term in a specific area. If you can secure a top listing for a keyword phrase thousands or millions of people are using to find and buy your products and services, then you are going to bring many new customers to your site.
Unfortunately, Google doesn't offer the exact search volume for each phrase on the search engine itself or on its free tools such as Google Trends. This comes as a surprise to many people who incorrectly assume that graphs created on Google Trends represent search volume. They actually convey the percentage popularity of a term in relation to its most popular moment in the period of time covered. For instance, we know that people's interest in the Netflix series Squid Games has peaked recently and Google searches are higher than ever so the searches for the term show a clear peak in interest but this graph will not tell us if these searches were in the tens, thousands or millions.
This makes Google Trends a great SEO tool for spotting emerging trends, so a business in London can see that many more people in London are searching for pubs with outdoor seating and during this time this should definitely be mentioned prominently on any business's website that offers this.
But to make sure you are covering the most significant Google Trends for your business, your research on Google Trends needs the help of keywords tools like those found in rankingCoach FREE. This will show you Google's average monthly search numbers for national and local searches for free. So you can find the search numbers behind the trend.
Anyone can use these free keywords tools in rankingCoach FREE to find the keywords with the most average monthly searches for products sold in their history. This is a quick and easy way to find good keywords. For instance, a coffee shop in Boston should do keyword research to find terms people in Boston are typing into Google when they are looking for their morning cup or lunch cafes. rankingCoach FREE's keywords tools show the average number of people using a phrase on Google per month.

Find the best value keywords
For local businesses, keyword research can be as simple as optimizing for the keywords with the highest search volume, but keyword competition is another element of keyword research that becomes more and more important when a business has lots of competitors. rankingCoach FREE analyzes your website and uses this information to determine how easy it will be for your website to rank for a specific term. As you can see in the picture above alongside the search volume we also have the difficulty for this specific website to rank for these terms

Keyword competitiveness is an important consideration for anything looking to get top rankings on Google as quickly as possible. It is easier to get top rankings for a phrase with less competition, that is to say, fewer sites optimizing for it than for a phrase with many high-quality websites chasing it. Due to the fact that up to 92% of traffic from search results on Google goes to the websites on the first page of Google, a front-page listing for a lower volume term can often be worth more to a business than one for a term with a higher search volume, on which the site owner could only achieve a ranking much further back in the Google rankings.
This doesn't mean that small businesses should never go for high-volume search terms with a lot of competition, you can even include a few when you first start out with SEO. Targeting at least as many keywords that are easy or intermediate to rank for will spread your risk. It will also make it easier for your site to rank for harder terms because top rankings on easier terms will begin to attract traffic to your site, which will boost Google's overall rating of your site, which will make it easier for your site to rank for those more competitive keywords. This makes striking the right balance between volume and competition a key part of finding the best keywords for SEO
SMB Tip The keyword tools in rankingCoach FREE use Google search numbers and an intuitive interface to make it easy to strike this balance between search volume and competition.
Using Keyword to Attract Traffic that Converts
Another important factor to include in your keyword research and SEO strategy is search intent. Getting top rankings for keywords with a high volume is only worthwhile if the traffic that you attract to your site is actually interested in buying your products and services, or anything else your site is there to encourage, whether that be reading the weekly blog or signing up for the mailing list. This is why you should combine keyword research with competitor analysis.
The first key area of SERP analysis that is key for keyword research is SERP analysis. This can be as simple as typing in the phrase you are looking to optimize to see what comes up. Good SEO keywords will return results that are linked to your business or industry. This is a good sign because it shows that people using that search term are likely to be interested in your products.
On the other hand, if you type in a keyword phrase and you find a mixture of results. This will help you to make sure your keyword choices are appropriate. For instance, a digital marketing agency that sells search engine advertising services ( also known as SEA) may try to optimize for the single term SEA but a quick trip to the Google results will show you why a lot of people going to this page aren't looking for search engine marketing.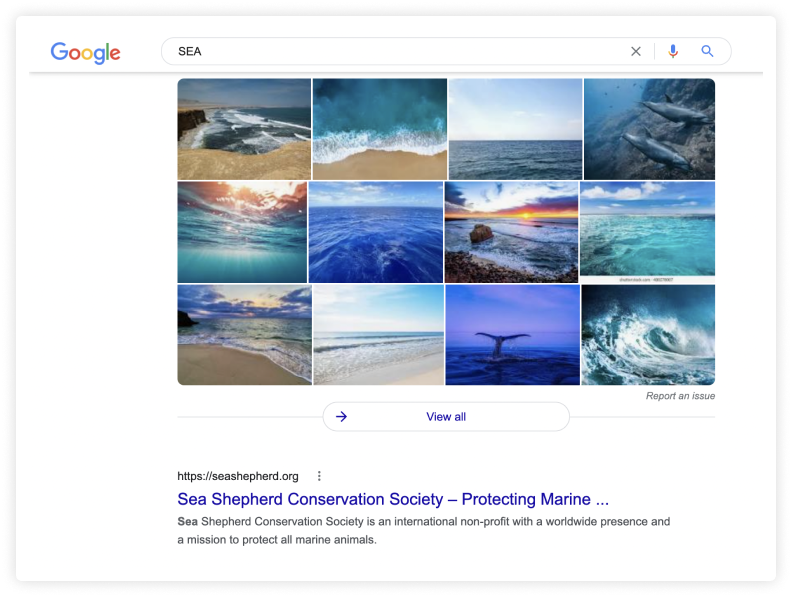 Why Keywords Tools Are Crucial for Keyword Research
Even when you have found the right keywords you still need to monitor and continuously improve them. Search engines like Google use incredibly complex algorithms to determine which pages take the top results. These algorithms know the difference between a site that's using keywords out of context to chase rankings, known as keyword spamming, and legitimate content that is actually using the keywords to convey a coherent and useful message.
SMB Tip: Keyword monitoring tools like those found in rankingCoach FREE make it easy to keep an eye on your keywords on the Google rankings so you can improve and protect your rankings
Search engines are constantly making new connections between words with similar meanings which means that the best keywords to optimize will can change over time. For instance, if I type the keyword phrase 'great places to eat in New York' into Google the results we see on the SERP refer to the 10 BEST Restaurants in 'New York' and 'Must-East'. These pages have clearly been optimized for the term 'best restaurants' but they show up in the results for this search because these are the pages that the searchers who type in 'great place to eat in New York.'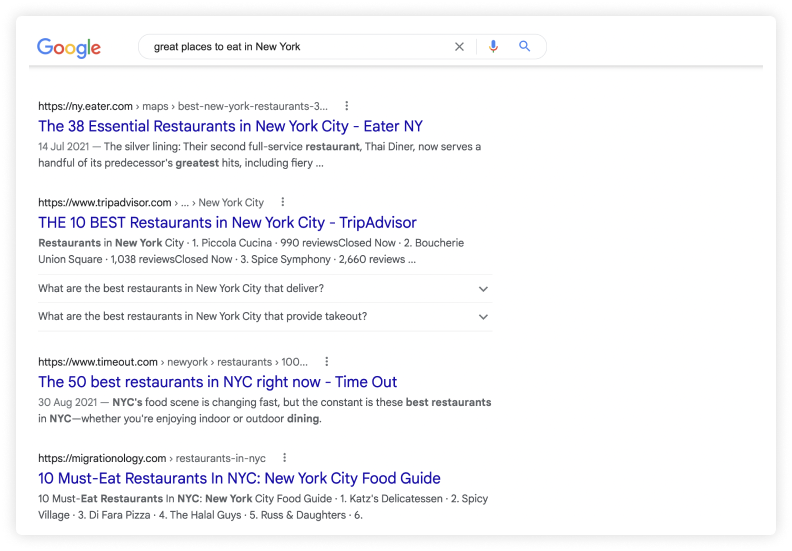 The lesson from this for your keyword research is that you also need to factor in competitor monitoring and SERP Analysis to checkout to get additional inspiration for keyword choices and get the current best practice examples from other pages that are already ranking well.
Finding The Best Keyword for Your Products and Services
Because small business owners know so much about the products and services they offer, they can often get too specific with the keyword results and miss out on all the more general terms customers tend to actually type into search engines. Those customers who have to have the latest Samsung phone as soon as it comes out may use the exact model number but many customers who buy Samsung smartphones are looking for 'affordable Samsung smartphones' or 'the best smartphone for under 300 dollars. Be sure to jump into the minds of your customers, use keyword tools to help you find the most popular and least competitive keywords to target.
Crucial Keyword Choices for Local Business
Location keywords are crucial for any brick-and-mortar store, optimizing key pages on your site for the phrases that customers in your neighborhood use to find the locations of businesses offering your goods and services is arguably the most important way of bringing customers in town through your doors.
When it comes to location terms, search volume is not always the friend of your business. You need to take travel practicality into Mind. If your restaurant is in a big city like London, targeting more specific phrases, depending on your location, like 'places to eat near Tower Bridge' 'restaurants in central London' 'restaurants Soho' may bring more customers to your door than the more general terms. Keywords are an important part of Local SEO but also make sure you work on your directory listings. Google My Business is an essential listing for any small business. You can secure and manage your business listing with rankingCoach FREE.
The Final Word On Keyword research
Finding the right keywords for your site is one of the first things you should do when you start Digital Marketing. Make sure your site is built with an SEO-compatible CMS, then use keyword tools to find the best value keywords, the best way to do this is to take keyword volume and competition into consideration. You should also check your keywords for SERP and competitor analysis. This may sound complicated at first but it can be done easily with help of keywords tools like those found in rankingCoach FREE